Born in Lyon, Fanny Bracco began her piano lessons at the age of six. She became a laureate of the Grand Concours International de Piano (beginner category) at the age of seven. The following year, she entered specialized music classes where she completed her education until she obtained her high school diploma.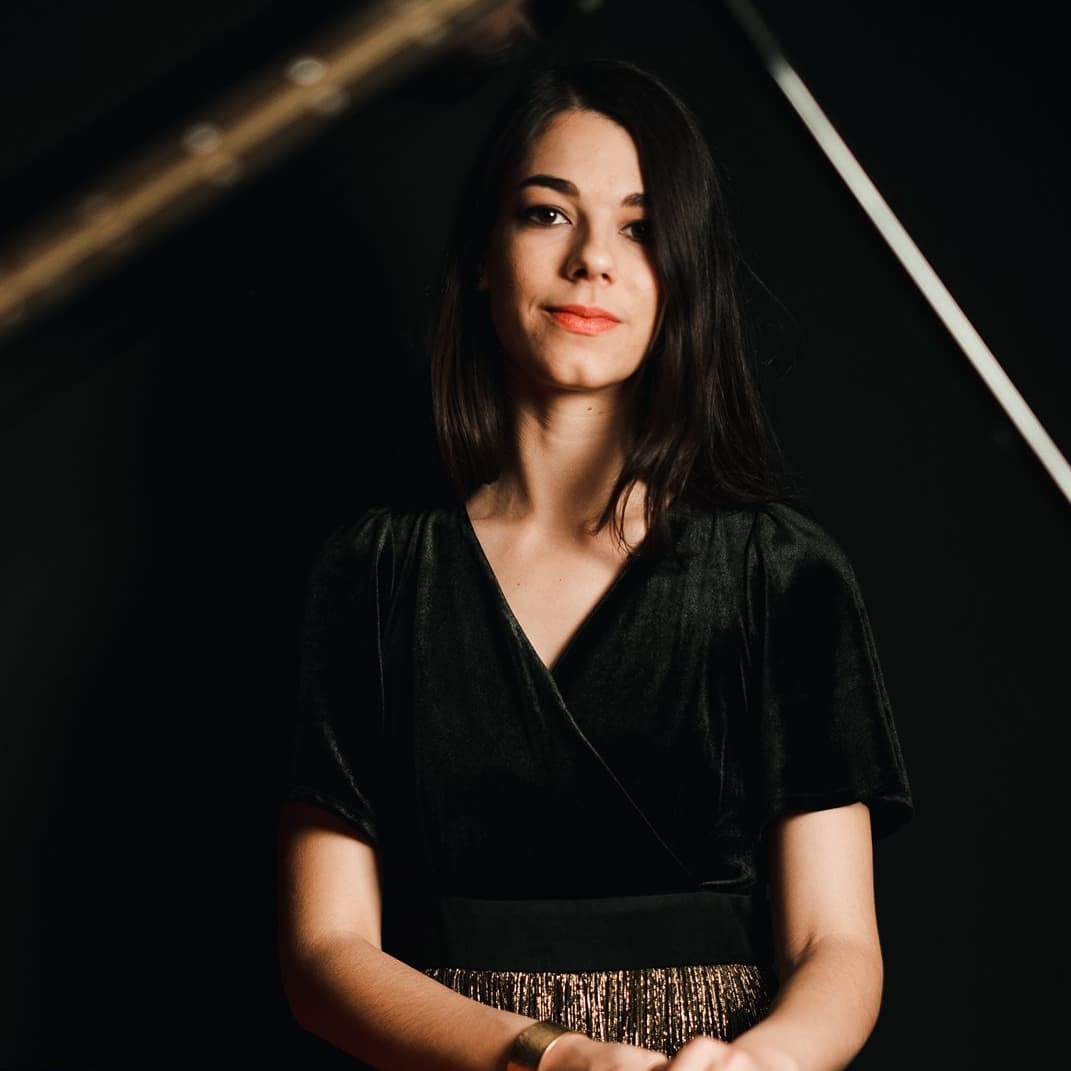 At the Lyon Conservatory, she studied piano with Hervé Billaut and music composition with Marie-Agnès Sauvignet and Cédric Granelle, earning a DEM (diploma of musical studies) in both disciplines.
In 2016, she performed as a soloist for the first time in H. Villa-Lobos' Bachianas No. 3 with the Lyon Conservatory orchestra at the Bourse du Travail. The same year, she participated as an orchestral pianist in the B. Britten' Cantate St. Nicolas, conducted by Bernard Têtu, and performed at the Grange aux Lacs in Évian.
After two years of further training, she was admitted to the Lyon National Superior Conservatory of Music, where she studied under Jérôme Granjon, Dana Ciocarlie, and Yovan Markovitch for chamber music.
She obtained her Master in 2023.
During her studies, she had the opportunity to perform both solo recitals and chamber music in various prestigious Lyon venues, including the Théâtre Kantor at ENS, the amphitheater of the Opéra de Lyon, Théâtre Astrée, Salle Molière, and the Auditorium de Lyon.
In 2019, she joined the conservatories of the XIIe and XIIIe arrondissements of Paris, where she studied pedagogy with Florence Aramburu and piano accompaniment with Claude Collet. In parallel, she honed her skills under the guidance of Carine Zarifian and Carlos Roqué Alsina, who had a decisive influence on her career.
She had the opportunity to give several recitals in Brittany, Normandy, and Lyon, among others, where she was invited by associations such as Musique à Groix, Le Moulin d'Andé, and PianoThé.
In 2021, she was invited to perform as a "Young Talent" at the 6th Festival Romantique du Loir. The same year, she won second prize at the Leopold Bellan International Music Competition, leading to a recital performance at the Piano City Milano Festival in Italy.
The following year, she participated in the Besançon-Montfaucon Festival, where she performed as a soloist in Mozart's Piano Concerto K.246 with the Cristofori ensemble under the direction of Arthur Schoonderwoerd.
Fanny Bracco regularly takes part in summer academies in France with Christophe Simonet, Bernard d'Ascoli (Piano Cantabile), Nicolas Mallarte (Musique à la Prée), and in Belgium with Jean-Claude Vanden Eynden.
In 2021, she was selected to participate in the Académie Musicale de Villecroze, where she met pianist Avedis Kouyoumdjian, with whom she went to study at the Universität für Musik und Darstellende Kunst in Vienna.
As a recipient of the Robert Casadesus scholarship, she participated in the 2023 Fontainebleau American Conservatory and collaborated with prominent musical figures such as Robert Levin, Philippe Bianconi, Frédéric Aguessy, Régis Pasquier, and Isabelle Duha… 
She performed at the Chapel of the Trinity at the Château de Fontainebleau, the Fondation des États-Unis in Paris, and was invited to give a recital as part of the summer concert season at the Château de Ratilly. 
Since 2023, she has been a scholarship recipient of the Société Générale Foundation's "C'est vous l'avenir" and ADAMI.